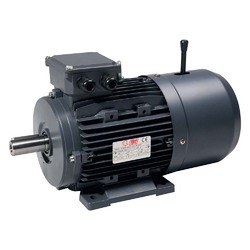 Brake Motors
Product Description
Product Details:
| | |
| --- | --- |
| Brand | Unitorq |
| Phase | Three Phase |
| Application | Textile Machines, Conveyors, Machine Tools |
| HP | 0.05 HP - 30 HP |
| Motor RPM | 1500 |
| Torque | 5 Nm |
Brake Motors are used for various application where instantaneous stopping of the driven load is required. The operation of the brake is "Fail Safe Type" (USB & UMB series) and are Normally On. The brake is applied when power to the motor is switched off or power failure occurs.
Working:

When there is no power given to either motor or brake, the brake torque is provided by compression springs developing an axial force on the brake armature plate which ultimately presses it against mounting flange. In this condition a nominal "air gap" will be available and the rotor with the frictional surfaces remains sandwiched in between armature plate and mounting plate.
Release of the brake takes place, when the power to the brake and motor is supplied at the same time. Power to the brake coil produces strong magnetic filed and pulls the armature plate against the compression spring force towards the stator (Brake Coil) over the air gap and rotor becomes free to rotate. The attraction of the armature plate and returning to it''s original position takes place instantaneously thus failsafe nature is ensured in case of power failure.
Contact Us
105 A, PAL MOHAN PLAZA, 11/56, D B GUPTA ROAD, New Delhi, Delhi, 110005, India
Phone :+918045479751